Quebec Street Proposal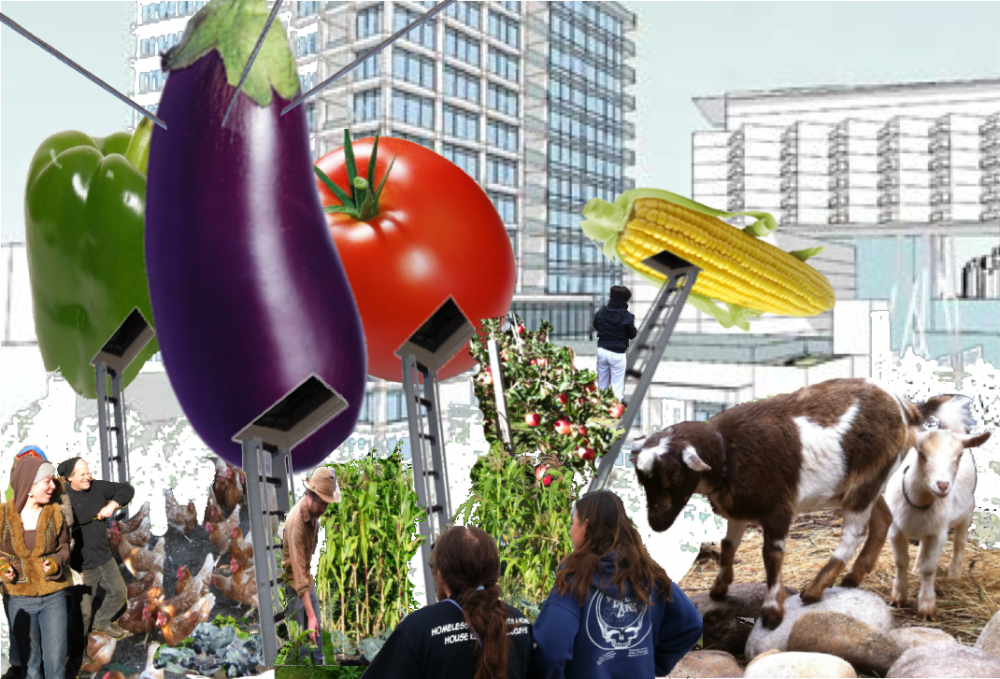 proposed pod housing and urban agriculture installation at Quebec St. development

(This was a proposal I recently submitted to the Bosa corporation for vegetable-shaped pod housing situated in an urban farming landscape amid one of their new Vancouver housing developments)
In my work as the instigator of some of Vancouver's more innovative urban environmental design projects (Cottonwood Community Garden (1992), Healing the Cut/Bridging the Gap (1996), Means of Production (2002)), I have become increasingly aware that achieving true environmental democracy requires much more than the (admittedly laudable) strategies of encouraging community gardening and redesigning public parks.

In the complex set of relationships that constitute the urban landscape, there are winners and there are losers and I see it as my role to facilitate more constructive, more humane interactions between people and the urban environment – no matter where on the social scale they happen to find themselves.

Though I intended in my previous projects to provide urban dwellers with the opportunities to grow food, produce botanically derived craft materials and participate in the rehabilitation of damaged ecosystems, I frequently ran up against the very real, very unmet needs of the homeless and the vulnerably housed.
Disenfranchised from the market driven system of housing distribution, they often wind up in the same interstitial zones, the terraines vagues, in which I execute my well-known 'botanical interventions.
Though certainly marginalized, these people show no lack of creativity when it comes to the daunting challenges of living out of doors and some indeed choose this life over the option of public shelters, with all of the attendant scrutiny and institutionality.

Yet were it not for the inclement weather and the vulnerability of their hastily constructed encampments, would there not be something paradisiacal about living in a garden? After all the garden is where in many religious traditions, we had our original abode and to where we are promised sanctuary upon completion of a virtuous life. There is a storied history the world over of people taking refuge in gardens as resident hermits or monastics and this is generally considered desirable - extending the garden's function as a sanctuary from the brutality of the world.

So why not examine this further? What are the opportunities for humane, low-impact living within the context of a horticultural landscape for those content to live in tiny structures, independent of the real-estate system? Are there opportunities for symbiosis between gardens and those who would live simply within them, tending the crops, building compost, raising small animals and keeping a watchful eye on the surrounding neighbourhood, while more conventional citizens have left for work?
To answer these and other questions, I propose to use the allotted space in the Quebec Street development as a kind of living lab in which to examine various micro-architectural propositions such as flock housing, bivouac housing, pod housing and to study how these might successfully be integrated into the community garden setting within what is a dynamic urban neighbourhood.
In addition to those who might be traditionally considered 'homeless,' the minimal footprint urban shelter opportunities I am imagining might also appeal to students, shift workers, urban agriculture enthusiasts and others interested in co-creating and field-testing radical new strategies for sustainable and affordable urban living.

To start things off, my own submission, 'PRODUCE' imagines a prototype pod housing concept using recycled fiberglass re-purposed into the shapes of iconic garden produce – peppers, tomatoes, ears of corn – that will constitute experimental, single-person dwellings in which gardeners would live while tending designated allotments and communal plantings. The pod dwellers' round-the-clock presence in the garden would enable the inclusion of small livestock into the horticultural system such as poultry, rabbits and pygmy goats, whose manure would offer a huge fertility boost to the plantings and which would supply hyper-local eggs, milk and meat to the development's residents.

It is my intention to further extend this inquiry through curating and exhibiting on site, other 'micro' housing concepts that I will solicit internationally from artists, architects and designers, interested in pushing the frontiers of urban housing justice within the food-producing horticultural landscape. Complimenting these exhibitions will be a comprehensive program of talks, panels and special events, all of which will be documented, archived and further discussed via an extensive web and social media presence.

And what better context is there for critical examination of how the homeless and the more affluent among us can co-exist and collaborate, than in the middle of one of Vancouver's controversial new housing developments? I very much look forward to the jury's response. Thank-you for the opportunity to pitch this idea!