Other Gardens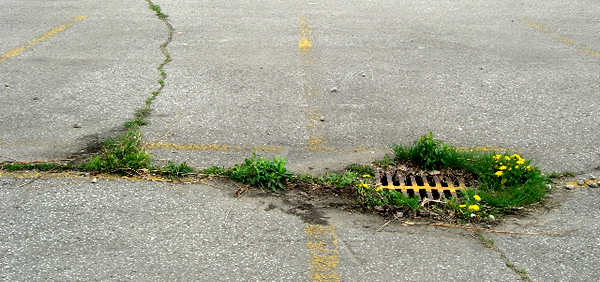 other gardens invites participants to join a cross-country tour of two extraordinary but otherwise overlooked gardens. Located in dramatically different surroundings at opposite ends of the country—one in Montreal, the other on Cortes Island, BC— both gardens emerge from might be considered an obscure design tradition, characterized here as 'ruderal' (i.e. emerging from ruins).
The 'tour', made possible by the strategic deployment of mobile media technologies, and therefore unrestrained by the vagaries of actual travel, moves freely back and forth between the two gardens, shining a spotlight on the often overlooked but nonetheless remarkable achievements of non-human gardeners who work according to a different time and scale of cultivation than is normally found in gardens. Each stop on the tour lasts only a few minutes but nonetheless provides the opportunity to experience the garden's visual and aural specificities, as well as hear commentary on its resident gardeners and their design achievements.
Conceived on the occasion of the launch of Public: Gardens, this project was created in collaboration with Concordia University's Mobile Media Gallery whose are exploring the creative possibilities of Bluetooth technology. Artist-contributor, Oliver Kellhammer—whose original Concrete Island (2006) provides context and precedent for many of the ideas explored here—and issue co-editor, Erin Despard have combined their shared fascination for botany in waste places to create this inventive media tour of other gardens. In addition to the installation for the launch of Public: Gardens, this project proposes two alternative formats for taking the Montreal portion of the tour—online via an interactive map, and in person.
other gardens ponders the minimal conditions of the garden's existence, asking whether its traditional identity as a space of enclosure set apart from the world can be reconstructed, through other means: that is, with images, sound and narrative, rather than spades, shears and plant selection processes. Further, it asks, if we uncouple 'the garden' from 'the human' might the garden begin to garden itself?
Oliver Kellhammer's botanical interventions and public land art projects attempt to demonstrate nature's sometimes surprising ability to recover from damage. His work facilitates the processes of regeneration by engaging the botanical and socio- political frameworks that underlie the landscape, taking such forms as small-scale urban eco-forestry, inner city community agriculture, and the restoration of eroded railway ravines. His work is anti-monumental: as his interventions integrate into the ecological and cultural communities that form around them, his role as artist becomes increasingly obscured. He sees what he does as a kind of catalytic model-making, which lives on as a vehicle for community empowerment, while demonstrating methods of positive engagement with the global environmental crisis.
Erin Despard is a writer and a doctoral candidate in communication studies at Concordia University. Her dissertation research focuses on the history, politics and phenomenology of ornamental public gardens in cities. Other projects investigate the connections between fear of crime and the psychology of weed control, and the relationship between landscape and other forms of visual media. Throughout her undergraduate studies and between degrees she worked as a gardener.
Monika Kin Gagnon has written widely on art, culture, media and cultural race politics, and curated exhibitions and events at artist-run centres and galleries across Canada, since the 1980s. She curated Yong Soon Min and Allan deSouza's Bed in for Peace to Montreal (Oboro, 2003), and programmed Remix! Artists Remake Media at the 2005 Fabulous Fringe Festival. She is author of Other Conundrums: Race, Culture and Canadian Art (2000), and with Richard Fung, 13 Conversations about Art and Cultural Race Politics (2002). In 2009, she produced the archival DVD Charles Gagnon: 4 Films. She is Associate Professor in Communication Studies at Concordia University.
Link to Concordia Site: http://mobilemediagallery.org/campaigns/other-gardens/
(Check out the next page for site maps and botanical narratives.)